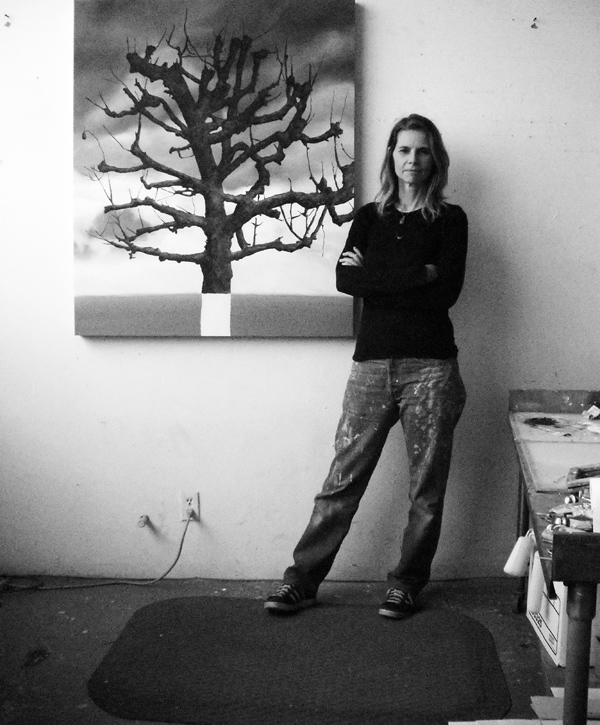 Lisa Adams in Los Angeles studio / ©2010 Atelier Visit.
Studio Visit with Lisa Adams
Los Angeles based Artist Lisa Adams shares her time with Atelier Visit to discuss her work and thoughts on art. The interview and or conversation was filmed in her Los Angeles studio in May of 2010. Lisa's haunting work of birds, nature, mysterious narratives and collisions with abstractions adorn her studio. Lisa has worked as a non-representational artist for ten years and then introduced her new visual vocabulary for which she is known today. Her current work is a beautiful struggle to be seen.
Lisa received her MFA from Claremont Graduate University where she has also taught, no doubt, inspired young artists. Amongst her many accomplishments she is a recipient of a Fulbright Professional Scholar Award. Her work is in major public collections and has been exhibited internationally.
Lisa will be included in a group exhibition in September called Real/Surreal at Pederson Projects in Pomona, CA. The group show includes artists Wendell Gladstone and Amir Fallah, as well as Lisa Adams.
For more information on Lisa's upcoming projects and exhibitions visit her site at lisamakesart.com. You can also check out our Artist Registry at ateliervisit.com/profiles/ to view some of her works.
-Abel Alejandre/ Visual Artist
Interview with Lisa Adams from Atelier Visit on Vimeo.