Resurrected Histories is a project funded by California Council for the Humanities, documenting Highland Park's Chicano arts organizations during the 70's.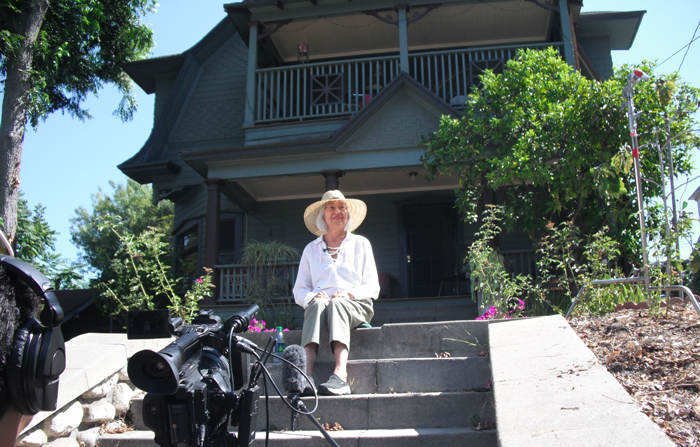 Aldama House /©2011 Atelier Visit.
Resurrected Histories: Voices from the Chicano Arts Collectives of Highland Park
From the late 1960s to the early 1980s Highland Park in Northeast Los Angeles was home to the influential Chicana/o artists collectives Mechicano and Concilio de Arte Popular, which included among their members some of the most important Chicana/o artists of their time: Carlos Almaraz, Frank Romero, Judithe Hernandez, Teddy Sandoval, Gilbert Magu Lujan, Leo Limon, Barbara Carrasco, and John Valadez.  In stark contrast to the upscale galleries of West Los Angeles, where an individualistic conceptual art was taking root, Highland Park was becoming home to an art form that emphasized the themes of community, cultural pride, and economic struggle inherited from the great Mexican muralists of the previous generation.  The work of these collectives on the East-side housing projects of Ramona Gardens and Estrada Courts and in numerous public spaces and institutions across the city ignited an explosion of Chicana/o muralism in L.A. in the 1970's, turning L.A. into the mural capital of the country.  Connected with the Chicana/o nationalist movement, these artists were working toward the visibility of the Mexican American experience and the problems of justice and equality faced by members of their community.  In order to have maximum impact, the artists deliberately located their collectives in Highland Park, a predominantly Latino/a neighborhood, so as to engage and inform the people who stood to benefit the most.  The work was not only a visual representation of the cultural and political life of a silenced group, but, in its size and visibility, a defiant occupation of urban space and an inexpensive form of mass communication as well.  For a city and a school system devoid of authentic information about its Mexican cultural past, these tactics were vital for creating a sense of united cultural identity among a population that had been denied that right, and for communicating a vision of what the American democracy could ideally be.  The very production of the murals envisioned and enacted democracy by involving multiple authors and community members.  Moreover, since murals could not (easily) be moved to museums or added to personal art collections, their very existence was always subject to wider public debate, public funding, and the mood of society.   In these ways, this work was a democratic and participatory art form like no other.  But these organizations were also made up of highly accomplished individual artists with their own voices and styles, who nevertheless could not get represented or promoted by mainstream galleries.  Their stories raise a number of questions about how artists contend with balancing personal visions and political obligations.  Telling their story exposes a tension between two different ideas of democracy that is particularly resonant for artists from disenfranchised groups: on the one hand, the obligation to work toward visibility and equality within society, and, on the other, the unencumbered right to their own expression.  Now fifty years later, the surviving members are in a critical place to look back and reflect upon what they had hoped to achieve, what they feel they did or did not accomplish, and what were the benefits and sacrifices of viewing themselves as cultural workers.
Resurrected Histories: Voices from the Chicano Arts Collectives of Highland Park from Atelier Visit on Vimeo.
Today very few Highland Park residents know about the historical presence of these collectives in their neighborhood.  Local public schools lack arts programs, there are no major cultural or art institutions in the area, and nearly 40% of families live below the poverty line.  Just as the collectives of the late 60's and 70's worked to give people their history, we would like to do the same.  Via video-recorded oral history interviews with the living members of these collectives, we propose to construct a multi-voiced history of the arts collectives of Highland Park which will be edited into a single film.  We have planned the completion of the video to coincide with an exhibit featuring archival material about Concilio de Arte Popular, a separate project being curated in our gallery by Professor Sybil Venegas of East Los Angeles College.  The interviews will be playing on a screen in the gallery in conjunction with the exhibit of the archival material.  We seek to involve our community in this project in several ways.  The questions posed to these artists will be collectively developed by our project staff, humanities consultants, consultant artist and informant, John Valadez, and by a select number of local high school students who have been involved in some of the public art programs of our partner institution, L.A. Commons.  In doing so we want the film to be guided by the community's own need for information about its history.  When the video is shown publicly in our gallery, viewers will be asked to write their impressions and to answer a few questions which seek to uncover how current Highland Park residents view the role of public art and murals in particular.  After this opening night, the video will also be uploaded to our website where it will be made permanently available.  The webpage will have an interactive element that will enable viewers to continue making comments about the artists' oral histories.  Instead of a static, formal document, then, we wish for this film to be the center of an ongoing conversation.
Source:  resurrectedhistories.com